First let me say that VMworld is an event that one shouldn't miss.
I know this post about VMworld 2011 is late as the EMEA conference is about to start but better late than never. This was my second VMworld and certainly won't be my last. Out of all the conferences that I have attended in my career the VMworld conference has taught me the most and I have made some great friends over the past two years. Last year's conference and this year's keep me inspired and invigorated to blog, speak and share with the community.
This year I concentrated my sessions this year on advanced technical discussions focusing on Site Recovery Manager, Networking topics such as the Cisco Nexus 1000v by Jason Nash and two sessions on obtaining my VMware Certified Design Expert (VCDX). I guess this is my official announcement that is one of my goals and I will be blogging about my path torward this high level certification. More will be posted about this in a future post.
I spent quite a few hours this year in the Hands on Labs which I think are an invaluable experience. The hands on labs give you a chance to learn and touch systems that you may not have access to, get hands on experience with new products that are being announced etc..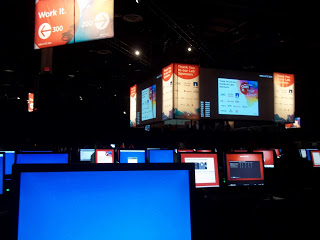 Access to experts and vendors are another great reason to attend. The solutions hall is very comprehensive and a lot can be learned there if you spend some time there.
I saw and met a lot of good friends at VMworld 2011, including some I met at VMworld 2010. The community events and the vendor parties give a chance for attendees to continue the fun and networking after hours for most of the week. The parties were too numerous to mention but let me highlight a few that rocked.
#CXI Party
Fusion IO
Veeam
EMC
Official party and concert with The Killers and Recycled Percussion (they both rocked the house)
I saw very little of my hotel room that week and slept for over 12 hours after getting back but it was well worth it.
P.s. Special thanks to Jason Nash and Papa Joe for showing a Vegas newbie how to play craps.