Varrow Madness is an annual conference put together for our customers and greater community centered around March Madness, focused on sharing ideas and knowledge, and its a free event. This was my first Madness and and I have now been with Varrow close to nine months and still loving it. I'm amazed and stunned by this event my compatriots put together at Varrow along with the help of their partners. A lot of work goes into these conferences, more than I even imagined as a consumer of these events in the past. it really makes me appreciate the work that goes into the other events done out there, big and small, and especially the people that put them together.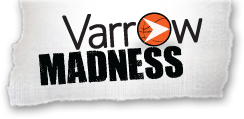 Varrow Madness is quite a show and if you get the chance next year, it's an absolute must attend.
I was going to write a short post following Madness but I have decided that Varrow Madness is just way too big and awesome to be contained in a single post so I will break it up into three posts.
Varrow Madness Part 1: General Thoughts on Awesomeness
Varrow Madness Part 2: Citrix Provisioning Server Implementation + Best Practices
Varrow Madness Part 3: Varrow Hosted EUC Labs
Madness kicked off with Jeremiah Cook, our CEO and co-founder as well as a cultural leader at Varrow as well as our resident leader rapper. Jeremiah welcomed everyone to Varrow Madness followed by a great video about BYOB, Bring your own Bots inspired in order to introduce a great performance from iLuminate, the same group that has done performances on America's got Talent and other venues. I also learned that Jason Nash has Android devices and loves to look up funny cat pictures on the internet.
Dan Weiss our Chief Operations Officer and co-founder joined Jeremiah and stage and talked about the sheer volume of events we had planned for the day and his rad dance movies. We also announced the winner of the Varrow Innovation Contest 2012, the winner recieved a free pass to the Vendor Conference of their choice. There were many submissions and I am sure it was exteremly hard to choose the finalist much less the actual winner, all of the submissions were fantastic.
Check out each of the submissions below and congratulations to Alamance Regional Medical Center for winning the contest this year.
Alamance Regional Medical Center
Alamance Regional Medical Center participated in the Varrow Innovation contest and submitted their custom built Single-Sign-On solution that allows badge tap-n-go access for Citrix Xenapp. Alamance Regional was the grand prize winner of the Varrow Innovation Contest at Varrow Madness 2013.
Varrow Customer Testimonial – American National Bank
Finalist in 2013 Varrow Innovation Contest for their great work in running Active Active Datacenters with EMC Recoverpoint and VMware Site Recovery Manager
Northern Hospital Surry County
Varrow Customer Testimonial – Northern Hospital Surry County
Finalist in 2013 Varrow Innovation Contest for their great work in running Active Active Datacenters with EMC VNX and VPLEX and Vmware vSphere
Jesse Lipson, Citrix Sharefile VP and GM did the morning keynote. After the keynote, the day was packed with technical sessions from some of the industries greatest minds and I was there too. I believe there were 46 sessions for people to choose from broken up over four sessions, two in the morning and two in the afternoon. You can still find the agenda on our Varrow Madness microsite.
I missed most of the afternoon keynote due to my work on the Varrow labs. The afternoon session kicked off with another performance from iLuminate and a keynote from VCE, President of VCE. I heard it was a great speech and plan to back and watch the recording when I have a free opportunity.
Next year i hope we can record all sessions and provide those online as a learning tool. I know that I wanted to attend many sessions and was unable due to my other duties at the conference. One thing i heard from several folks (and I think its a good problem to have) is the difficulty in picking which session to pick.
I spent most of the day in the Varrow Hosted Labs. The labs for both VMware View and Citrix XenDesktop were well received and attended, I will talk more about that in my upcoming Lab Post.
In the next few posts, i will talk about my session on Citrix Provisioning Server and the Varrow Hosted labs. As always I welcome any comments that you may have and any questions.