Sometimes old bugs come back to bite us when we least expect them, we believe them to be solved. This has been the week of old bugs. On a deployment of Citrix XenApp 5.0 on Windows 2008 (x86) I was setting up Configuration logging.
I should get the following message upon completion of the wizard.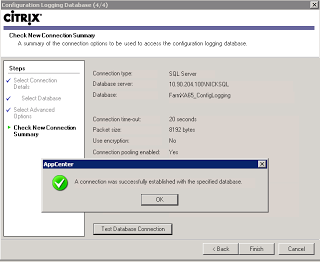 Instead I was greeted with the following message
Invalid username or password.
With some healthy google searches, I happened upon the following Citrix Forum post describing what I was experiencing.. I then asked the customer if they had a capital S as the first character of the password. BINGO.
We created another account for configuration logging, tested and bingo we were able to set up the connection to the database, we verified the issue also by testing it first with a capital S and without and were able to duplication the issue.
Issue: Configuration logging fails for administrators whose SQL Server password starts with a capital letter S.
Resolution: Change the password to not use Capital S as the first character or use a different account for Configuration logging.
Note: This issue has been resolved in most of the current releases of Citrix via hotfixes and rollup packs but currently there is no hotfix for XenApp 5 for Windows 2008.