April of last year I blogged about the transition from engineering on the customer side of IT to consulting in my vMotion to Consulting blog post. I still consider myself an engineer at heart with a focus on technology and consulting is something that I do.
When a meeting begins, it may be instinctual for a consultant to dive right into the data or technology. While this approach may seem logical, it may not be the right choice for many reasons. I am going to share with you a Consultative Approach that may help you build better relationships with your customers and help determine the right solution for a problem but it may require changing your approach and maybe even how you think.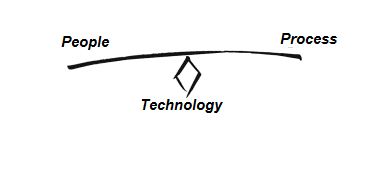 It's also important to remember while you may be an expert in your field that may only be a small piece of what you are there to do as there are people involved and processes the customer is in place so there has to be a balance. We deliver technology but also balance the people and process side of the equation, if any one of these is out of balance we may not be actually helping the customer.
It is also important to consider that the confident tone of an expert may come across as overbearing or even intimidating to the client. The engineer who doesn't take a Consultative Approach may risk the client leaving the meeting feeling frustrated or worse, discontented with the person who is supposed to be his or her trusted advisor.
There are three critical dimensions to working consultatively.
Knowing how to work effectively with all types of people.

Using a strategic and collaborative process.

Apply your expertise in ways that show you and your companies value.
This is why a Consultative Approach is so important.
Taking this Consultative Approach is often the better way to solve the actual problem and to help build a trusted relationship with your client. As a consultant, your advice and expertise is what your typically delivering.
I think the key piece of that definition is "a professional who provides professional or expert advice". This requires the customer to trust your advice and expertise (sensing a theme..?). Establishing that trust in the relationship is very important. This is established through discussion and interaction, not reviewing data. Many engineers and people want to go right to the data but many times that won't tell you the real problem or lead you to the right solution.
On the right is a list of things that I think go into the Consultative Approach and help drive the mindset of a consultant. I will break each of these down in more detail further down in the post.
1. Do your homework first. Do some research before your meeting or project, this will help prepare you and may drive some of the questions you ask. Even if you know the industry or sector, do the due diligence and research on the client to reaffirm your understand of the client's history, customers, goals and competition.
2. Listen before you talk. This is probably the most critical piece of advice I can give you because each client is unique and circumstances change, take care not to make assumptions that you know a particular clients challenges or motivations. Spend a few minutes at the beginning of a meeting or project asking questions about their business and actively listening to what the client says. Take notes and let the client know you'll be taking notes, which indicates you care about what he or she is saying. The notes will also serve as a reminder for items that require you to follow up after the meeting.
3. Learn about your clients' vision of the future.Ask clients where they expect to be in one, five, or maybe even ten years into the future. At the rate technology changes, it more than likely will be different however if the customer says they want to be into cloud and automation in the near term, why would we implement a large complicated on premise solution. This information will allow you to provide relevant advice that will help the client realize their vision.
4. Provide anecdotes and examples. The Client needs to understand the basics of what you may do for them and how it relates to their business, but if they aren't the Engineer or specialist, that may not be their favorite subject to talk about. Take care not to inundate them with obscure acronyms or details surrounding the technology. Always try to relate your message specifically to your clients through conversation and with a storytelling approach. Describe similar situations and offer examples of how others handled situations successfully.
5. Save your clients time and effort. Like you, your clients are busy. Focus on solutions and recommendations for your clients that will save them time and money. Offering advice on ways they might lower expenses or increase ROI if possible will go a long way in building a relationship and increasing trust.
6. Use technology. I am a technologist at heart so this one is near and dear to me. Again, like you; Your clients are busy so help them increase productivity by using technology and tools to run their business or manage simple tasks perhaps through automation such as scripting with PowerShell, health check scripts such as the VMware vCheck. This could be any tool, maybe even mobile applications. If its a free tool or something you can share with your clients, share it. While many of these tools and technologies may be known to most in your circle, that does not mean your client knows about or uses them.
7. Build a team approach.If possible offer your clients an alternative contact if you're not available and there's an urgent matter that needs to be addressed. Don't be a one man show,unless you really are and if you are a one man show, be honest and realistic on expectations for turnarounds with the client. The practice of building a team approach will help improve customer service, increase timeliness of response to urgent client requests, and give clients a sense of continuity.
8. Find out how clients prefer to be contacted. While some clients may like e-mail, others prefer a telephone call instead. Don't make assumptions; rather, ask your clients how they prefer to be contacted. Make note of their preferences in their file and do as they prefer. If you prefer one over the other, ask for their approval to be contacted by phone or e-mail, whichever you prefer.
9. Follow up. After a client meeting, make it a practice to follow up with clients to thank them for their time. This relationship-building exercise is also an opportunity to share any additional information that was indicated as a follow-up item during the meeting.
Taking a Consultative Approach focuses on asking questions, actively listening, and providing advice based on clients' specific needs, rather than focusing solely on the services you offer. Adopting this approach may require an engineer to change how client meetings are managed, but ultimately, the payoff will result in strengthened client relationships.