A friend and ex-coworker recently asked me for resources on obtaining his VCP, I currently hold my VCP4 and I am planning to take the VCP5 early next year, prior to the end of February, more on why this date is important later. The VMware VCP is the entry level certification to showcase your skills with VMware vSphere and supporting products. For my reference and for others I thought I would summarize the resources, such as blogs, books videos etc that I am using to prepare for the VCP5 exam.

Start at the official certification site and examine the blueprint, take the practice tests. Going through these materials and official documentation will help provide the necessary foundation to pass the VCP5. Make sure you have also met the requirements for sitting the exam including any classes. The class requirement is waved for existing VCP4 until February 29th 2012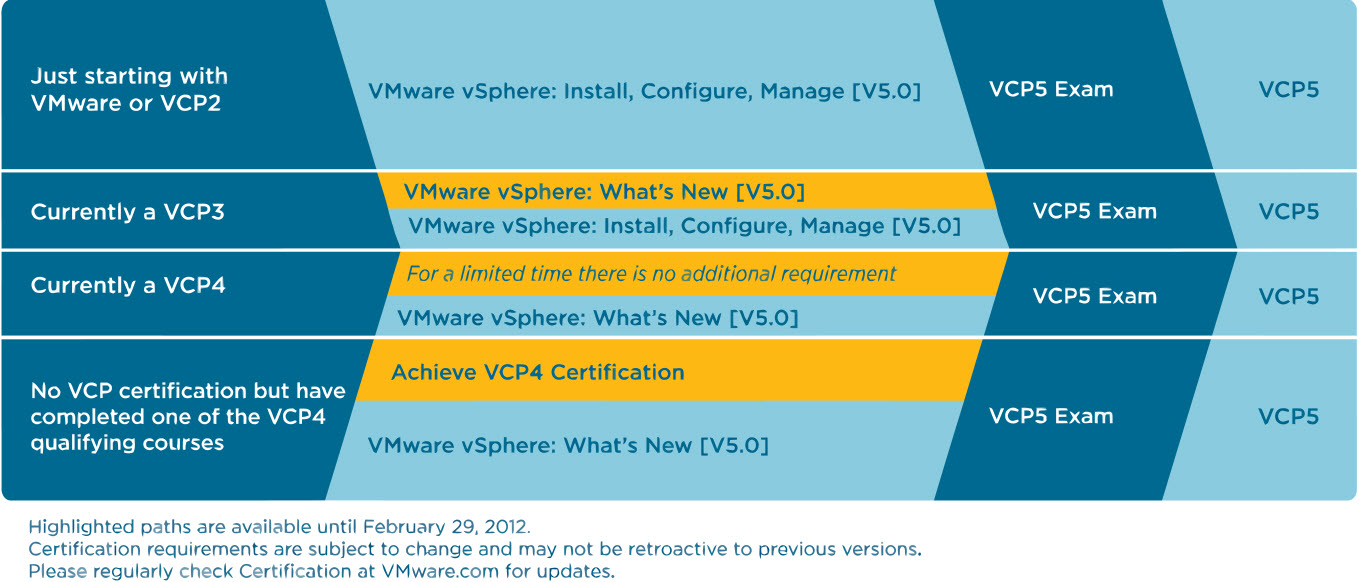 Official Links
One of the best write ups I have seen as of yet for obtaining your certification is How to Pass VCP5 by Greg Stuart, This site can walk you through what you need from beginning to end. Many of the same links that I include here are also referenced on the site below.
I would also recommend Damian Karlson's aka @sixfootdad on twitter blog for a solid comparison of VCP4 vs VCP5 item by item as a critical resource.
Blog / prep guide on preparing for VCP5. Many good articles on the site
Additional Practice test and resources can be found on Simon Long's blog AKA the SLOG
Condensed vSphere5 documentation and notes by Forbes Guthrie
There is also a community supported weekly series of blogs centered on VMware certifications called Brownbags. Recordings are available online and topics include VCP5 certification and much much more. I highly recommend listening to these and joining into the podcasts as they happen, you might even have a laugh and more importantly learn something.
Books I am using as reference material (in no particular order)
This list of resources will get you started and is by no means comprehensive. I would also highly recommend joining twitter if you haven't already. The VMware community is very active and has some great minds that you can learn from and are happy to help you. For a list of VMware resources to follow, I highly recommend this list of VMware vExperts as a start to follow.
vExperts are defined as individuals who have significantly contributed to the community of VMware users over the past year. vExperts are book authors, bloggers, VMUG leaders, tool builders, and other IT professionals who share their knowledge and passion with others. These vExperts have gone above and beyond their day jobs to share their technical expertise and communicate the value of VMware and virtualization to their colleagues and community